Focus on Support, Discussion, Education, and Developmental Activities, and Fun!
Our groups are professionally led by licensed therapists and infant and child development specialists. Our group leaders use a mindful parenting philosophy, promoting parental attunement, as well as teaching parents about their children's physical, emotional and cognitive development.  As children become toddlers we offer a gentle separation process in our Preschool Prep Program to ready toddlers for preschool.  
0 - 6 Months
"First Weeks Group"
Group leaders provide a nurturing environment for both parents and infants. Focus is on helping parents to adjust to the joys and challenges of becoming a new parent.
Discussion topics include transitioning to parenthood, sleep, attachment, bonding, attunement, nannies, getting back to work and more. Classes include music, movement and developmental play as babies are ready.
6 - 12 Months
"Movers & Shakers"
Our group leaders provide parents with the developmental knowledge needed to understand their babies' physical, social, emotional and cognitive development using a mindful parenting approach.   Discussion topics include how to add solids to your baby's diet, sleep and sleep regression, naps and how to hire caregivers and more.
Classes include music, movement and developmental play activities that promote developmental progress while having fun.
12 - 24 Months
"Toddler and Me"
Our group leaders continue to provide parents with developmental knowledge using a mindful parenting philosophy. Toddlers participate in music and movement with parents and are then provided with a structured developmental play experiences and snack with gentle supervisions by our child development specialists.
Discussions topics include stranger anxiety, tantrums, new sleep schedules and more.
"Mommy's Trip to the Hospital"
Prepare for the birth of your second baby! Download this book to make with your child. Add your own pictures and drawings so that it is personalized.
Preschool Prep
"Preschool Prep"
16 months to 3 years
Our Preschool Prep classes meet twice a week on Mondays and Wednesdays or Tuesdays and Thursdays for 2 hours (9 – 11AM). Curriculum is written by Pat Joseph Thomas, PhD from the Center for Early Education. Marilee Hartling RN, MFT is the director of this program.  All teachers have master's degrees and are specializing in early childhood development.  Preschool Prep is a tuition based, play based class for toddlers which prepares them for preschool success.  A gentle separation process is supported as the school year progresses and children are ready. Curriculum is tailored for the needs of each group.  
The Preschool Prep program promotes play-based learning and parent connection.  There is a new theme each week with a new sensory experience as well as an art activity that promotes the development of fine motor skills.  Children can choose from a variety of activity centers in our playroom which are all thoughtfully designed to promote your child's development while he/she plays and has fun. 
The Preschool Prep Program has a parenting component.  Parents/caregivers meet in the parenting room next to the playroom for parent discussion and a time to connect.  The door between the 2 rooms remains open so that toddlers who need to check in with their caregiver can do so and then return to the playroom with their supportive teachers.  When toddlers are ready they may transition to Our Preschool Prep Drop Off Program.  Each week there is a new parenting topic for discussion which is facilitated using a supporting and educational tone.  Topics include discipline, sleep (or lack of sleep), mindful parenting, tantrums, potty training, and how to choose a preschool.  Preschool Prep parents form a close connection and community during the school year which serves as a supportive parenting village that last far beyond the year they spend together.
"The New Baby"
Help your child adjust to the birth of the new baby. Download this book to make with your child. Add your own pictures and drawings so that it is personalized.
After School Programs
Social Skills Building Groups
We call "Little Friends Group" and "New Friends Group"
We believe that bolstering children's social and emotional competence is the best way to foster their success and happiness in school and later in life. For this reason we have created an after school program that does just that. If you would like your child to have a boost in his/her ability to play cooperatively, make friends and resolve conflicts while working together and having fun, this is the right program for you.
Focus is on communication skills, active listening, sharing and taking turns, and friend-making activities that promote social and emotional competence while having fun in a supportive, nurturing peer group setting. Groups are limited to 6 children. Parents and caregivers have the option of staying for parent discussion with our parent educator while children attend their group in the play room.
Ages 3 - 4
"Little Friends"
Preschool is often a child's first venture into the wide world of friendships. Three and four year olds learn about the importance of communication and relationships with their peers both inside and outside of the preschool classroom. Learning how to cope and respond to peers who have their own agendas can be a challenge. In our Little Friends Group for 3-4 year olds, children practice turn-taking skills and how to use their words to express emotions and resolve conflicts. Children are taught beginning skills they can use to both join and welcome others in play. Sharing is a skill that is discussed and practiced while engaging in games and fun activities.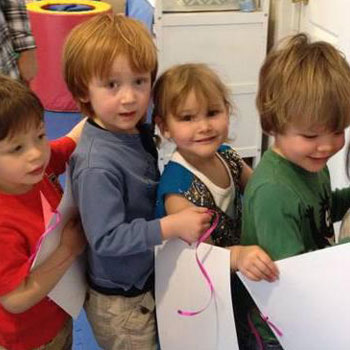 Ages 5 - 6
"Little Friends"
With the entrance into kindergarten and first grade there is new pressure on five and six year olds to grow up, to perform and to fit in. At five and six, children begin to become more aware of their own limitations and those of the world. Five and six can be a challenging age. In our Little Friends Group for 5-6 year olds, we offer fun activities that both bolster social-emotional competence and build self-esteem. Focus is on teaching kids to identify and appropriately express emotions. Children also engage in problem-solving games and learn to talk and work it out as they practice building "friendships skills".
Ages 7 - 9
"New Friends"
There is a continued increase in pressure in second, third, and fourth grade to perform both academically and socially. Peers become very important and challenges can arise as friendship become more complex. In our New Friends Group children learn conversational, friendship and problem-solving skills. They practice active listening and observation skills which helps them to become more aware of others people's active feelings and needs. Cooperation begins when children are able to both assert themselves appropriately and develop a welcoming attitude towards others. Being a good sport and playing fair, compromising and solving problems are skills that are emphasized through fun games, role play, and friend making activities.